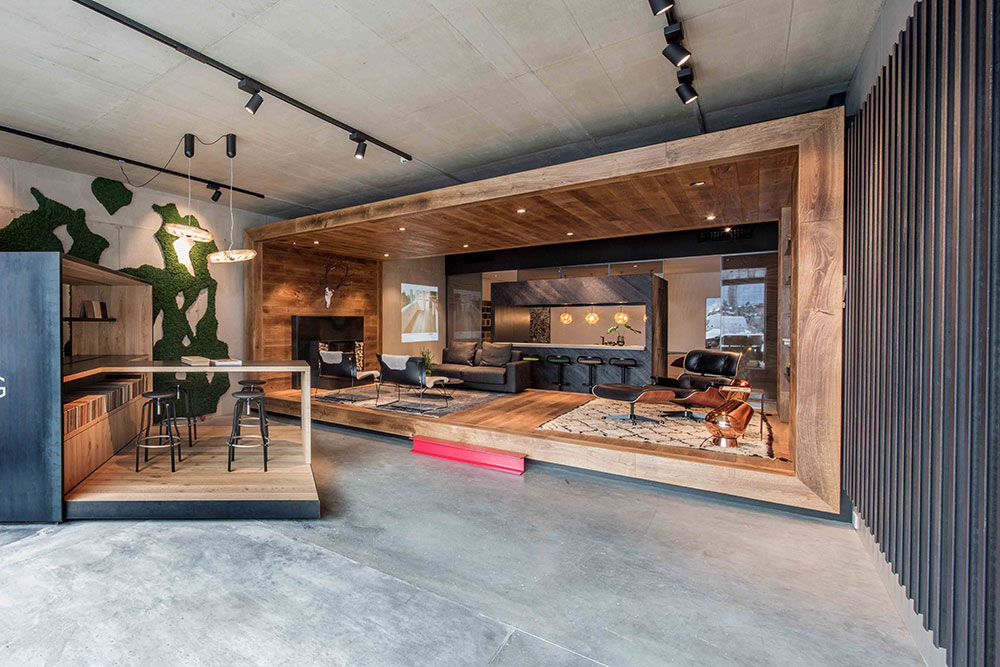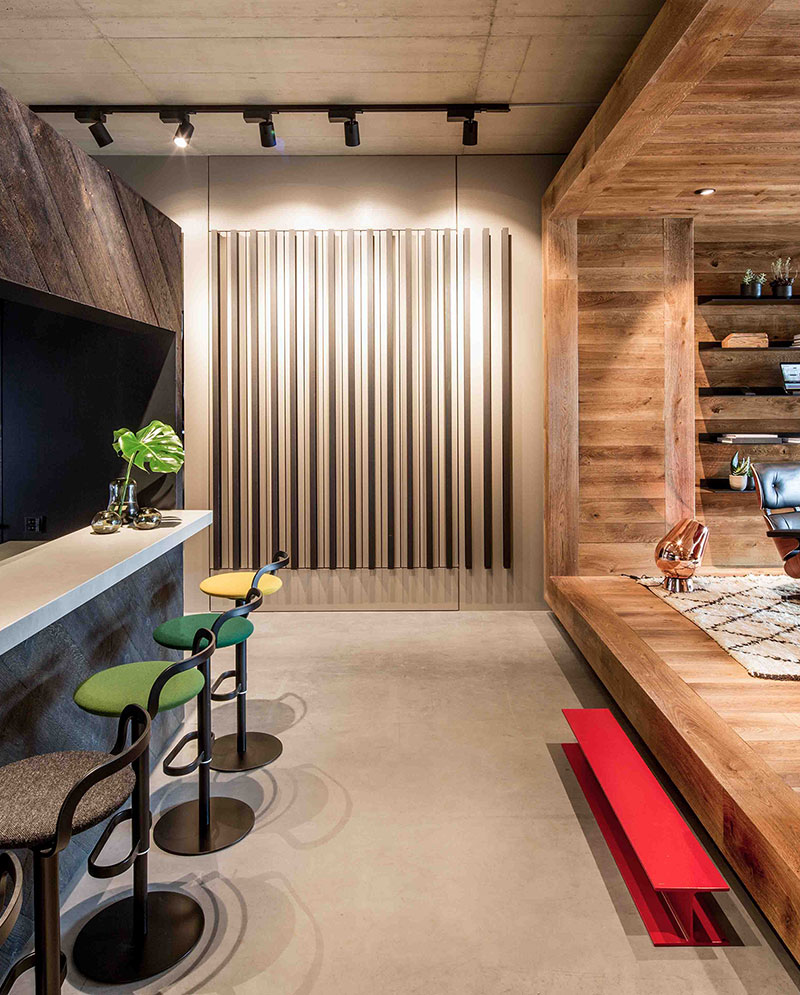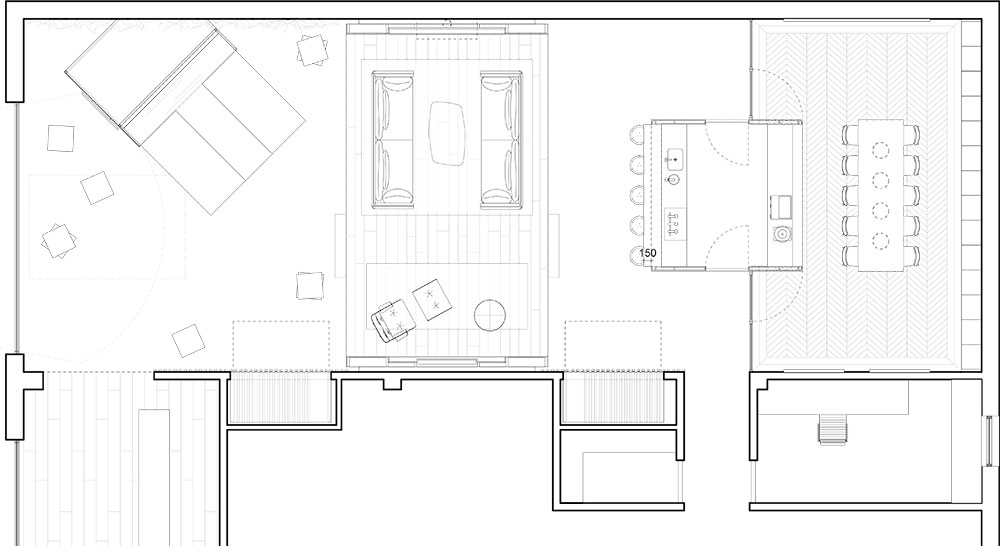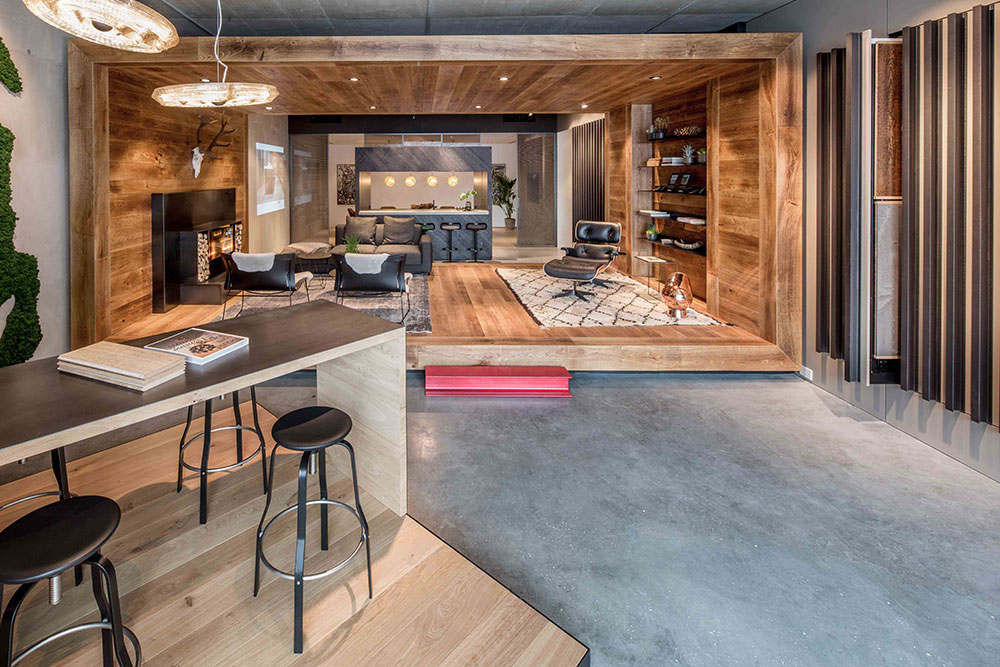 Hakwood Studio
Kitzbühel, Austria 2015
Dutch designer and manufacturer of fine wood flooring, Hakwood, opened it's first wood flooring showroom in Kitzbühel, Austria. A leader in technology and design, the company is known worldwide for the vision and innovation it brings to the industry. Taking all the characteristics of Hakwood and placing them in a dedicated showroom space was the challenge for Dutch architecture and interior design firm, The Nieuw.
The concept of The Nieuw was to not make it look like a 'wooden flooring showroom', but rather show what's possible with this material. Flooring options in color, dimension, pattern and use are integrated into the space. The Hakwood Studio does not openly display any flooring panels, but upon closer inspection, the full range of flooring is available to view.
Moving from a square "Great Flooring Stories" logo design to a three dimensional space, The Nieuw elected to transform the square into a cube. The Hakwood Studio design evolved into four successive, staggered "cubes" the customer moves through accompanied by his project. To not choose for a wooden main floor makes it more interesting, on despite a lot concrete, it still feels very warm.
The corporate identity of Hakwood uses squares and has 4 main targeting groups; retail, residential, hospitality and commercial. These were all translated into a 3 dimensional units, all with their own character and stretched into place.
In the first cube you will find a work space, sample pieces and product information. This cube is designed as a shop in shop, and functions as a workshop as well. The second cube is used for personal consultation in a warm and inviting living room setting. This stretched 'residential' cube reflects the local interior and architecture tradition. With a fireplace and a lounge area it isn't very difficult to feel somewhere else.
A stylish bar-cube follows to grow the project over a coffee, tea or wine. This 'hospitality cube' is made of one the most unique floorings, but in this case used as diagonal cladding with really nice details. The bar volume connects the domestic part with the business section. In the fourth cube the project can be closed in a conference room for the final phase. Of course, all cubes are individually designed with Hakwood to show the entire and versatile range of flooring for use as floors, walls, ceilings, and furniture. 
"Our showroom is a world of experience. We want to inspire our customers so we created The Hakwood Studio as a place where great flooring stories are written, "says Mark Hak, owner of Hakwood. A family company, Hakwood remains synonymous with its 35-year-strong core values of innovation, reliability, superior quality and solutions. Their flooring can be found in over 40 countries worldwide.
Client: The Hakwood Studio
Total area: 150 m2
Photography: Jurjen van Hulzen
Previous
Next